Plainview Defensive Driving Program
It's the complete New York Defensive Driving answer. You get a New York DMV approved class sponsored by Agency #29, a great trafficschool course, up to four (4) points reduced, and your automobile insurance discount.

Plainview Defensive Driving
Taking a Defensive Driving course in Plainview is now simpler and more convenient thanks to PointReductionProgram.com's online Plainview Defensive Driving Internet Point and Insurance Reduction Program course. It's totally on line and doesn't require any added downloads or software installs, so you can take this Plainview Defensive Driving program using any PC or Mac with Internet access.
Login And Logout As You Choose
Our IPIRP is designed to make your life easy! You can log in and log out as you wish, allowing you to do the class at your own tempo. Just remember that the Plainview Defensive Driving laws require you to complete your course within a 30 day time frame.
Plainview Defensive Driving For $24.95
Our all inclusive cost for your Plainview Defensive Driving program is only $24.95! This program cost covers everything necessitated by the NY Department of Motor Vehicles to get your insurance rates discount and have points reduced from your record. There are no hidden costs. If you find a cheaper price elsewhere, you can expect hidden costs for your Completion Certificate handling and processing that will increase your program cost.

Our Defensive Driving Mission
Our Plainview defensive driving programs are developed to help you meet all of your NYDMV needs. Whether you are looking to reduce points on your driving record or to keep your insurance rates from increasing, PointReductionProgram.com is committed to you!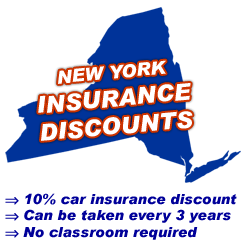 The Virtually Paper-free Course
One of the many advantages of PointReductionProgram.com's traffic-school courses is that you will save paper. Besides the issues that come with filing, mailing, and faxing paperwork, the use of paper is taxing on the environment. With web defensive driving in Plainview, there is no final exam to take and no manuals to print out or paperwork to mail in to us. Now that's a course that environmentalists will prefer!
Reduce Points And Get An Insurance Discount With Pointreductionprogram.com
When you finish an I-PIRP course, you get the same full benefits of finishing a classroom PIRP course. Drivers can reduce their driver violation point total by a maximum of four (4) points, and they can save ten (10) percent on their automobile liability and collision insurance premiums.
Effortless Payment Options
Our defensive driving course isn't the only uncomplicated aspect of what PointReductionProgram.com has to offer. We also make paying for your course a cinch! You can pay on the web or call in to make payment, it's that uncomplicated!