Internet Port Washington Defensive Driving
Receive more than just a great class at a discounted price when you complete our Defensive Driving Program in Port Washington. You'll also get all the advantages:
No final test required!
10% insurance rates discount
Reduce points from Your motor vehicle operator record
NYSDMV approved, Sponsoring Agency #029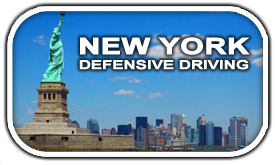 Port Washington Defensive Driving
Completion of this New York State DMV approved IPIRP Defensive Driving course provides a 3-year, 10% reduction off of your car/truck insurance premiums. The total course is available totally online. You can go at your pace and there is NO CLASSROOM ATTENDANCE REQUIRED. This course also allows you to reduce up to 4 points on your motor vehicle operator record. In addition, there are NEVER ANY HIDDEN FEES with our course. Your course fee covers the course, your Completion Certificate and the electronic reporting of your successful completion of the course to the New York State DMV. So what are you waiting for, get it all when you get started today!
Pointreductionprogram.com Payment Options
Our defensive driving course isn't the only trouble-free aspect of what PointReductionProgram.com has to offer. We also make paying for your course a cinch! You can pay on the internet or call in to make payment, it's that trouble-free!
Finish The Program At Your Pace
Our PIRP is designed to make your life easy! You can log in and log off as you wish, allowing you to finish the class at your pace. Just remember that the Port Washington Defensive Driving laws require you to complete your course within a 30 day time frame.

Why Go To Port Washington Defensive Driving
Absolutely No Final To Take Or Pass!
Receive An Vehicle Insurance Reduction Of 10% In The Base Rate Of Liability, No-fault & Collision Automobile Insurance
Save Money While Reducing Up To 4 Points From Your DMV Driving Record

IPIRP Benefits For Port Washington Drivers
PointReductionProgram.com, in conjunction with The American Safety Council, offers a Port Washington Defensive Driving class approved by the NY Department of Motor Vehicles. Upon passing of our Point and Insurance Reduction Program, patrons get a minimum of a four point-reduction on their New York driving record. In addition, a mandatory minimum 10% car insurance discount will be earned if the class is completed by the principal operator of the vehicle being insured.
Defensive Driving In Port Washington | 5-hrs And 20 Minutes Time Requirement
Any Port Washington defensive driving course that is an approved Internet Point and Insurance Reduction Program by the NY Department of Motor Vehicles must meet minimum timing requirements. Currently, NYS law states that any Internet Point and Insurance Reduction Program, online or classroom, must involve at least 320 minutes of instruction time.
Paper-free Defensive Driving For You And Me!
One of the many advantages of PointReductionProgram.com's ticket school programs is that you will save paper. Besides the pain and suffering that come with filing, mailing, and faxing paperwork, the use of paper is taxing on the environment. With on line defensive driving in Port Washington, there is no final exam to take and no manuals to print out or paperwork to mail in to us. Now that's a program that environmentalists will prefer!