NYS DMV Approved Defensive Driving
Get more than just a great course at a great price when you take our Defensive Driving Program in Saratoga Springs. You'll also get all the rewards:
No final test required!
10% insurance rates discount
Reduce points from your driving record
New York DMV approved, Sponsoring Agency #029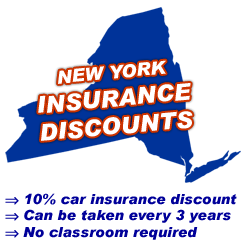 Saratoga Springs Defensive Driving Online
Choosing a Defensive Driving program in Saratoga Springs is now simpler and more convenient thanks to PointReductionProgram.com's online Saratoga Springs Defensive Driving IPIRP course. It's 100% online and doesn't require any added downloads or software installs, so you can take this Saratoga Springs Defensive Driving course using any PC or Mac with Internet access.
Can I Login And Logout Of My Program?
When it comes to a convenient Defensive Driving course in Saratoga Springs, PointReductionProgram.com has you covered. We permit you to log in and sign out when you want. Take our Saratoga Springs course all at once or over many days - as long as you finish within 30 days, it's all good!
How Many Hours Will My IPIRP Take?
Any defensive driving or traffic school course you finish in Saratoga Springs to receive point reduction and a mandatory 10% insurance rates savings must be a minimum of 320 minutes long in instruction time. All of PointReductionProgram.com's New York Defensive Driving courses meet this condition.

Pointreductionprogram.com | Defensive Driving Mission
PointReductionProgram.com is dedicated to providing the best driver safety education courses that are on the web, effortless to use, and offered at the lowest prices. Our relentless pursuit of complete customer satisfaction and a genuine commitment to teaching our patrons has kept us the traffic school leader for over 15 years.

Online Defensive Driving In Saratoga Springs
When you partake in PointReductionProgram.com's Saratoga Springs Defensive Driving class, you become eligible to reduce as many as 4 (four) points from your Saratoga Springs driving record. The NYS DMV will automatically receive notice of your point reduction eligibility and you will also qualify for a mandatory 10% auto insurance discount. Point reduction only works for applicable traffic violations that happened within eighteen months of your class completion date. Defensive driving for point reduction, in Saratoga Springs, cannot be used to reduce points you receive from traffic tickets you may receive in the future.
Going Green In Saratoga Springs
The popularity of the Internet has revolutionized many industries, including the way leaders of the trafficschool industry offer their defensive driving courses. At PointReductionProgram.com, we make available online defensive driving courses for all of New York that allow customers to skip the traditional sit-down classroom in favor of taking a paperless course from any place. Not only is online defensive driving more convenient for Saratoga Springs drivers, it saves paper and cuts down on unnecessary waste of our precious natural resources.
Friendly Customer Service
Please feel free to contact our customer service representatives for live support regarding any of your defensive driving course questions. You can call us toll-free at 800-691-5014 or email us at info@trafficschool.com. We can help you get started, or if you're already a student, we can help you find resolutions to your program issues.